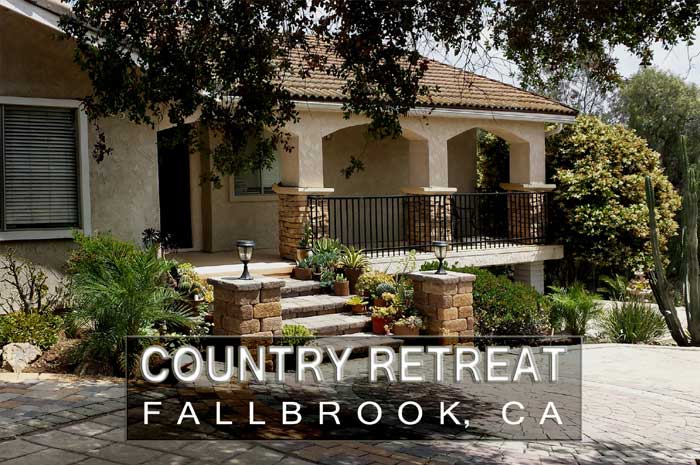 Go off the beaten places. Go into the places where is no traffics, no noises, and no pollution, only to relax, unplug and unwind. Bike ride along the Ancient oak trees line our street Live Oak Park. Visit little known ridding tracks, equestrian hiking trails where nature lovers delight. Welcome to our Fallbrook Vacation home
Temecula, Ca is popular for its wineries, golf courses, hot air balloon rides, casinos and antiques shops. Whether you come to Temecula for weddings, wine tours, golf tournaments or just for gathering, our large vacation home 5BRM/3BTh will be able to accommodate your get together. Welcome to our Temecula Vacation Rentals
"This Fallbrook Vacation home was amazing. From the minute I seen this house listed on AirBNB I knew it would be the perfect stay for an amazing weekend. My friends and I stayed at Michelle's beautiful home this past weekend during our Sky Diving Trip. The minute I got to the house I was amazed at how beautiful and prestige the house looked. We had a group of 7 and there was plenty of room for everyone. The top floor had 3 bedrooms. The master bedroom has a beautiful his and hers showerhead and the bathroom is amazing. The living area is gigantic and was plenty room for us to eat together and converse while comfortably watching the Stanley Cup Finals. The kitchen is beautiful and the counter tops are huge to allow for multiple people to work as a team while chopping, prepping, and cooking the food all at once. There is an outside patio that is gorgeous. The top deck extends out from the living area of the first floor. There are plenty of seats and tables for all to relax and unwind. There are a set of stairs which lead to another patio and seating area which included the BBQ grill. The bottom floor is just as nice as the top floor and is accessed by the stairway near the kitchen. This bottom floor has a bedroom and a slide out wall in the living area creating a 2nd bedroom for people to sleep. There is a kitchen down here as well and two bathrooms. This place is definitely ideal for a big group since there are 5 big beds to sleep on. Our group of 7 were easily accommodated and had a very beautiful and comfortable weekend. Michelle is a great host and was easily accessible at anytime of the day. She is a nice lady and I would definitely recommend this place to all in the future. Fallbrook is a beautiful area and the entire house is plush. I would recommend this stay for all and is great for big groups due to the amount of beds this place has."
"We arrived in Fallbrook vacation homes for a vacation with 8 ladies, we had planned for more but some had to cancel. This home was perfect for us and would easily sleep more. There are several sitting areas both inside and out. We enjoyed the beautiful patio area upstairs especially with beautiful views and it was perfect for star gazing. The large kitchen with serving bar across from stove top was nice for cooking and serving. Plenty of dishes and utensils for a crowd. This home has such a good location. We had day trips to San Diego, Carlsbad, San Luis Rey Mission, Temecula wine country, and Palm Springs Tramway. Owner, Michelle even told us about Fallbrook events happening while we were there, we appreciated the obvious care taken to make sure guests are comfortable. We Unanimously agree we would love to return."
"We rented this large, lovely Temecula vacation rentals for a family occasion in the area. There was plenty of room for the 10 of us without feeling crowded at all. The living, dining, kitchen and family rooms are all large and well furnished. The beds were all very comfortable and the bedrooms spacious. The three bathrooms more than met our needs. We enjoyed having family meals and conversation in the back patio under the umbrella table. Michelle was very helpful in making sure that all of our needs were met. I would definitely return to this Temecula house in the future."
"The Temecula Vacation Rentals was everything we were looking for and more! Our group was a large one (12 people) and there was plenty of room for us all to stay the weekend comfortably. Michelle, though tied up with other obligations for the weekend, still was kind enough to check in with us regularly throughout our stay, going out of her way to offer activities in the area. The house was beautiful, homey and comfortable. I would gladly stay at this property or any other property of Michelle's again! She truly made my first experience with AirBnB an easy and seamless one!."
"Lovely, Spacious and Comfortable Temecula vacation rentals" Have rented this home twice now. Needed place for family to stay while having a Graduation Party and once again for Mother-In-Law's 80th Birthday party. Great Location, clean, well equipped kitchen. Could not have asked for anything more."
"We had a great stay at Michelle's house. It was 10 of us and we had plenty of room for everyone. Among the Temecula vacation rentals, this house is in a nice neighborhood, kind of quite, but we did see some kids across the street throwing football. The place is beautiful inside well decorated, spacious, with nice living/dinning room, and also kitchen with another living room with a TV. We can all gather in the kitchen or in the dinning/living room without any problems. She also has a great back-yard and grill that we didn't utilize as much since it was kind of chilly for the weekend we stayed. The place was clean, and Michelle is a great host. She will answer any question via text really fast which is always appreciated. She ensured we had a great stay. We didn't really need it much, but the wi-fi was not as strong and Directv package that she has is great but didn't have ESPN (we tried to watch NBA conference finals). Both not as important for a great stay we had. Thank you Michelle and if we are ever back to Temecula, we will definitely stay at your place again."
Relax & Enjoy your home away from home
Some of the popular attractions